Building Futures Program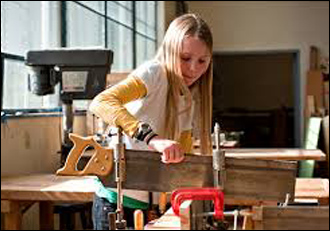 Building Futures Program is a collaboration, between Minority Business Consortium, Santa Clara County Buildings and Trade, Eastside Union High School District, and Working Partnerships USA the Building Futures grant administrator. 
• provide an important opportunity for low-income youth and adults to enter the middle class.
• Employment projections for 2014-2015 are expected to reach the industry's second and third highest employment totals in the past thirty years.
• Pre-apprenticeship programs will offer a rare, and in most cases fully funded opportunity to "earn and learn", providing cash stipends and benefits to students  while they simultaneously learn job-related skills
Program Details
The programs goal is to mentor, assist, and teach Students the skills necessary to build finished products. Utilizing math, planning, design and marketing skills.
Furthermore, Students will learn how to build, remodel and repair buildings of non-profit agencies that serve Youth, the poor, the ill and the needy.
The end goal will be to enter successful candidates into construction pre apprentice programs that ultimately will lead to solid career paths, in construction, design, marketing and architecture.

Program Goals and Objectives

Up to 80 percent of Building Futures Program graduates will be placed in union apprenticeship programs.

Building Futures Program graduates will have an 80 percent retention rate as union apprentices or journey workers, a remarkable figure considering the low retention rate of apprentices nationwide.

Almost 90 percent of the Building Futures Program participants will be Black, Hispanic, Asian or Female.

The Building Futures  program model is an ongoing partnership between  the Minority Business Consortium, Eastside Union High School District, Santa Clara County Building and Trades and  pre-apprenticeship training programs, construction contractors, local government agencies and the non-profit workforce development community.

An outreach, eligibility and screening process that is coordinated directly with partner Eastside Union High School District's Independence High School, targeting at-risk students specifically.

High standards for participants contribute to the high completion and retention rate in union apprenticeships. Program eligible students must have a demonstrated commitment and /or interest in one of several shop classes and pursuing a career in the building and construction trades.

A strong working relationship with union apprenticeship programs allows the Building Futures Program to recruit based on an anticipated number of reserved apprenticeship openings, thereby ensuring placements for their graduates.

Openings would be reserved for public high school graduates that complete the Building Futures Program and meet the pre-apprenticeship requirements.

The timing is right to create a successful  pre-apprenticeship program, such as Building Futures Program, and provide a path for minority and female public school youth to the middle-class.

The construction industry plays a critical role in Santa Clara county's economy, and has long provided a middle-class career path for its workers.

With strong growth currently underway and projected growth into the future, the industry is poised to add thousands of new jobs in the next few years.

With an average annual wage of approximately $67,110 for union and non-union members according to the DOL, health and retirement benefits for union members and a low educational barrier to entry,  jobs in the construction industry

These middle class jobs should be prioritized for graduates of Santa Clara county's public schools.

Building Futures Program should be expanded by increasing the percentage of apprenticeship openings reserved for high school students.
 Funding for this expansion should be provided from every level of government, the construction industry and private philanthropy.

Expanding the pre-apprenticeship program will require an increase in unionized construction jobs. The construction labor unions and their employers must work together to implement cost-saving measures in order to increase the number of union construction jobs.

 The next Mayor of San Jose should convene a high-level Good Jobs Summit that brings together leaders from the Building and Construction Trade Council unions, Building Trades Employers' Association union contractors, and real estate industries – including residential, commercial, healthcare and higher education – in order to find ways to expand the number of construction jobs in Santa Clara County, as well as increase minority and female youth access to these jobs through pre-apprenticeship programs.

The Building Futures Program pre-apprenticeship program should be adopted as a national model for training minority and at risk youth for middle class careers in the construction industry.

An extraordinary return on investment

The cost per Building Futures Program student placed in a union apprenticeship is $7,500 and increases their lifetime earning potential by 166 percent compared to other high school graduates working as a fast food cook.
With the same level of education, a Building Futures Program graduate will earn $1.6 million more than a fast food cook over a lifetime of earnings.

Successful projected outcomes

Building Futures Program successfully targets at risk and  minority youth and places them in middle class construction jobs, where the average salary is $67,110.
High school students that enter the Building Futures Program are targeted  to achieve a 75 percent completion rate.